Saturday November 19


Courtesy Photo – Living Waters Fly Shop
This year's Trout Day is shaping up to be one stellar event and we are looking very forward to hosting it — we even picked up two new brands just in time for the event!! Living Waters Fly Fishing is now a proud Rio fly line and C&F Designs dealer! Trout Day is a free event that is dedicated to trout fishing in Central Texas! We will be bringing our new AIRE raft, paired with its custom NRS fishing frame, up to the shop for Trout Day so that you all can see our new ride! Also, make plans to show up when the doors open for Round Rock Donuts and coffee. We look forward to seeing you at Living Waters Fly Fishing! If you have any questions, just call the fly shop at (512) 828-FISH. The event schedule is listed below:
9:00 a.m. — Doors Open
Come early for Round Rock Donuts and Coffee.
Also, take some time to take a look at our two
newest brands: Rio fly lines and C&F Designs!
10:00 a.m. — GRTU Lease Access Orientation
The GRTU lease program is the easiest way to access the Guad and
the fish that swim in it! Come learn more about this great access program!
1:00 p.m. – Nymph Fishing 101
This is a comprehensive class on nymphing that will cover all
major techniques and teach you how to use them to your advantage.
2:30 p.m. — Dry Fly Fishing the Guad
We have had great success dry fly fishing for Guadalupe trout and want to pass the
knowledge on to you! Come find out how we are consistently catching trout on dries!
4:00 p.m — Guadalupe Fly Box and Gear
We will crack open the guide boxes and show you what flies we use to catch fish on
the Guad. In addition to flies we will discuss essential gear that you will need on the river!
6:00 p.m. — Doors Close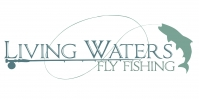 NOTE –
Tip O'Neill once said, "All politics is local." For some many people all fly fishing is local, but here in North Texas, at this time of year, there's virtually no local fly fishing to be had. SO, call a friend, catch a ride, whatever it takes to get down to this event, and get a little taste of the fly fishing opportunities around Central Texas. Be sure to read the Texas Fly Caster article on Living Waters Fly Shop as well.
Category: Events