Restoring your fly fishing waders
There are a lot of good threads running on what happens to waders [ppw id="133615644″ description="How to restore waders" price=".10″]
over time, and how to fix the inevitable leaks and wetouts. Generally, most unsolicited leaks appear along the seams of your waders after time.
On most any fabric oriented products seams will be the most likely points to give way first. L.L. Bean has even introduced a new wader, The Helix, that eliminates many seams typically present in a pair of waders by spiraling a seam up the leg. So, if you are in the market for new waders, maybe you could start with this evolutionary new design.
But if you don't have or don't want to drop 400 plus on a new set of waders, you may as well "dance with the ones that brung' ya'."
My most recent encounter with my waders, Simms G3's from closeout in late 2007, was sending them back to Simms after tiring of wet feet. The first thing I did was question myself before ever considering the waders could be the problem. The final answer, my feet really do NOT sweat that much. The registration process for Simms product returns is complex and detailed. I think in retrospect, their system is marvelous, and my repair was designated a "first time free" repair and the waders were back in hand within ten days. I am no wader manufacturer, but it appears they re-taped the seams around the stocking booties. Dry and warm just in time for this winter's sporadic outings. They didn't clean them, or otherwise turn down the sheets and leave a minty smell in the leg holes, but do we really care?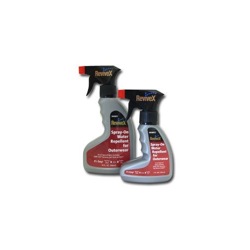 Then, a couple of outings back, I had a lot of water time, and up pops a spot on my pant thigh, on the outside about half way up. Just after that, I started watching a thread about "wet outs". It didn't take long to understand my young waders were already starting to suffer from the aging process. More reading lead to a product called ReviveX for restoring the properties of Gore-Tex. I am about to order some, but in the interim, here are some things you should know about waders and breathable fabrics such as Gore-Tex.
(1) Do not dry clean
(2) do not use chlorine bleach
(3) hand or machine wash warm. Bootfoots, hand wash only. Use a powdered detergent with no additives, such as Ivory®.
(4) Air-dry (turn inside out).
(5) Storage: for long-term storage — it is best to clean the waders before storing until the next fishing season. Again, dry waders completely before storing to avoid mildew. Store somewhere away from heat or light. Hung in a closet on a hanger is the best method for long-term storage.
(6) The last thing you want to do is leave your wet waders in a bag once you get back home! The least you can do is hang them out and air them out.
(7) Fabrics such as Gore-Tex function on a molecular level, so if there is dirt imbedded in the fabric it is safe to assume the fabric will not function properly in those areas. CLEAN YOUR WADERS.
(8) Places like the neoprene booties are subject to more condensation than other areas of the waders, so your feet may end up damp, but damp and wet are two different things.
There is a lot of conversation about waterborne transfer of micro organisms and disease throughout the industry, and the rememdies for minimizing this transfer are radical to fabrics; they involve diluted amounts of bleach on sensitive fabrics, and most certainly will shorten the life of any fabric. If you are in an area that tests positive, you really have no other option than a radical treatment – if you are headed to another area that is susceptible to these organisms.
An interesting aside; the whole move away from felt soled wading boots (to new Vibram soles) seems to be as much marketing as concern at this juncture in boot design and development. Don't you think these bad bugs can hitch a ride on laces just as easily as felt?
[/ppw]
Category: TIPS