There's a fine line when it comes to finding fault in today's exploding selection of everything related to fly fishing.
The primary reason I originally purchased the TFO Prism reel in a 7/8 was I wanted to give the reel a chance, score a bargain on a large arbor machined aluminum reel, and have the luxury of testing the reel over an extended time frame.
Plenty of bloggers and fly related web sites dance all around the minefield of testing equipment. They go out of their way to let us know that they "purchased" the equipment, and therefore can assure us of objective reviews of their products, and on and on …
If these same sites have advertising from the manufacturers they are testing, don't we realize they are already suspect? Here at Texas Fly Caster, we don't have any conflicts of interest with any manufacturers. The advertising is, thus far, limited to retailers who carry a wide variety of manufacturer's goods
If TFO, Sage, Lamson, Tibor, Simms, Mitzi, Dargel or anyone else cares to put the newest, latest and greatest in our* hands, under our feet or hitched to our test vehicle for testing, which is only logical at this point, we will gladly test your products and provide the most comprehensive and long term reviews known to the industry. We will test your products today, tomorrow, and a year from tomorrow, if that's what it takes to get the real feel for a product. Actually, there is no time limit to reviews at Texas Fly Caster. Those reviewers that take pride in paying for the gear they review never mention whether they actually paid full retail for the gear, or if they are living off pro-deals, or some other means of acquiring top shelf reviewable gear of interest.
Initial reviews are just that "initial," and most, if not all, the reviews of fly fishing equipment begins with the "high" of a visual description of the product followed quickly by the feel of the product and finally the performance of same product. And fly fishing in general has a reputation for visual over everything else – not that there's anything wrong with that. If you are a regular reader of Texas Fly Caster, you have already separated yourself into someone who likes and / or appreciates the visual more than the average fisher.
Heck, I had a visual high this week when our plumber unloaded a sweet little box holding our new Rennai hot water heater. The darn thing was about one fourth the size of the old school water heater sitting in the driveway. It looked like a component off the Space Station, and we now have efficiency, silence and a new closet once occupied by a giant 20th. century water heater. Forget the fact it costs as much as the Space Station – Barack's going to offset that anyway. What a world.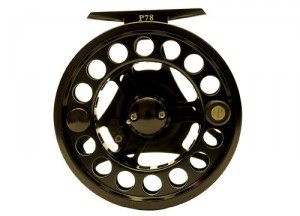 EVERYBODY HURTS SOMETIME
In this day and age, with much of what we consume being made overseas, is it any wonder that we can get a lemon every now and then. Sure, Chinese and Mexican nails bend quicker than US manufactured nails, but now we just expect to bend nails all the time right? I would pay double the cost to do away with the frustration of Chinese nails, but I must be the only one. So is it any wonder that when a reel such as the TFO Prism Machined comes out, there could be one or two with a "problem?" If they are importing them by the pallet, is it possible for more than one or two to have a "problem?" Sure it is. However, this reel could be the only one in the entire run of TFO Prism Machined reels to have this problem. I have not read anything anywhere else about this reel – reviews or problems.
WHAT WE HAVE HERE IS …
The excitement over the TFO Prism Machined reel was in the air when the reel, also offered in a cast version, hit the market. Finally, a good looking (visual) reel that was lightweight (feel) and had the Rolls Royce cork drag system. All of this was priced to sell as well. I had to get one for a couple of reasons; 1) I wanted to see how I liked a large arbor, and 2) I wanted to give it a go – see how good it really was – and report about it to readers of Texas Fly Caster.
The reel sat around for weeks, until I got the backing and line I wanted on it, and by the time my first writing on the TFO Prism came out, the door was slammed on it almost instantly – they were no longer going to make the machined version and would continue to make the cast version. Hmm, that, in the manufacturing world, can't be a good sign. This real was a real bargain, and either it wasn't selling, or there was a "problem."
I used it a few times and it performed quite well. I had to have something to replace my Orvis BBS Mid Arbor IV, since the drag on it had only two settings – off and on. (Inside HInt; Orvis has a long term problem with drags on that reel.) My initial review of the reel was positive even if there were some obvious misgivings about the finish of the reel (visual).
Then, out of nowhere, I was fishing with it one day and had been fishing for hours, and I went to strip out more line or reel in, and the line was behind the top post of the frame. I thought I had just neglected to pay attention, popped off the spool, brought the line back under the post and kept fishing. I was at about the 75 foot range, so there was a lot of commotion going on when it happened again. This time, I started thinking I must be losing it; how could I Houdini the line from around the spool having it come out of the back of the reel again? I stared and stared at the reel, and it never told me how it did that trick. Maybe I was being visited by supernatural fly casters.
Fast forward to the next time I was fishing with the TFO Prism Machined aluminum reel, and I was again stripping out line, way back into the running line at about 85 feet, and I heard a sound .. a "ting" for lack of a better term. I looked down, and the line was around back again. Now at least I knew I wasn't crazy. I reeled in a little, left the drag set pretty high and stripped out some line again. "Ting." The line was slipping in between the spool and the top post of the frame.
I am no Great Brown Fisherman, but imagine if that fish, THE FISH, came along and decided to take your fly for a ride with your line wrapped around the back of the reel and hugging the reel seat! What we have here is a sudden death experience. In this case, a sudden reel death experience.
Today, I stopped back by the TFO warehouse in Dallas to see if I could run this problem by the guys, but they are apparently on a junket to Arkansas. I managed to gain the confidence of one of the guys in the office enough to get back into the warehouse and strip out some line with the reel attached to the butt of my Clouser rod. Once I was into the running line, with the drag set, "ting." He was … amazed.
So we replaced the reel and I tried the same micro maneuver again. This time the reel held, and the line did not pass through the eye of a needle). Of course the reel looks great, and feels great, but only time will tell just how great the new reel works. AND, that's why Texas Fly Caster is here – to bring you all the information that fits in print, no, no, to bring you all that's fit to print. If anyone wants to take me fishing somewhere I can use a massive TFO Prism reel and Clouser eight weight rod, just send me a message, plane ticket and pocket change, and we can finish this review under real water conditions.
I am hopeful that I only need go a little way down the road to put this line on some deep running hybrids, or first cool front freshwater redfish at Fairfield.
In all seriousness, the problem I had with this reel has lead directly to research and discussion about aluminum, yes aluminum. We are going to go into great detail about what makes aluminum aluminum, and the aluminum used for machined and cast reels. Some of the preliminary answers may surprise you, no, they will surprise you.
At this writing, I am convinced I am the only person who owns a (my second now) TFO Prism Machined aluminum reel, but if any readers have one of these, and have anything to say about their performance, inquiring minds always want to know.
*our hands = a cadre of fly fishers of varying skills and experience waiting to fondle equipment at a moment's notice, use and abuse it, and then report back to me with brown bags over their heads therefore maintaining professional and personal relationships with industry moguls.