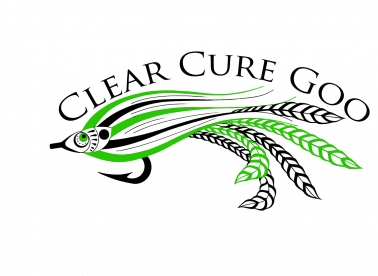 If you do not know this already, Clear Cure Products have their own Facebook page. It is very active with nearly 2,200 active fans who share their ideas and flies from around the world. Facebook allows you to upload your own photos as well as your own videos. You can also link your own videos that you have made from Vimeo or Youtube to our facebook page. As of today we have over 1,000 photos and many many videos that you can brows through for inspiration, curiousity of just the enjoyment of checking out some amazing flies. Please take the time to "Like" us on Facebook and we will be sure to keep you in the loop of any new things going on at Clear Cure Products. You can find us at: www.facebook.com/clearcuregoo
Contests- who doesn't like the opportunity to pick up free stuff. As we said before- We update our Facebook page very often and will be running this contest on Facebook. If you do not have a Facebook account and do not want to get one, you can still participate and in a moment we will tell you how. But first let us give you some details the contest.
Details on our $1,000 Facebook Contest
The contest prize is a great one. Starting off with a new Temple Fork Outfitters BVK fly rod of your choice. The TFO BVK rod is the one of the newest fly rods being offered by Temple Fork Outfitters featuring flor grade cork and their exclusive Tactical Series Guides. With a name that carries the name of Bernard Victor Kreh you know it has to be good. Retail Price: Up to $299.95
To go along with your new Temple For Outfitters BVK rod, well your going to need a reel right? We have you covered there as well. May as well make it a set, so you will have a choice of whatever BVK reel you would like. If you are not familiar with the BVK reel, it is a bar stock, precision machined reel. Heavily ported, the BVK reel not only looks sexy- it is very light. Don't let the great looks fool you, this is a workhorse of a reel and features stacked Delrin/Stainless disks and the one way clutch gives you instant drag engagement. Retail Price: Up to $299.95
So now your set with your new rod and reel, your going to need some flies. We are including in this prize package a TON of Clear Cure Goo as well as Clear Cure Eyes. Clear Cure Goo Hydro is one of our latest products and is the best in the business. It is water like and perfect for small delicate freshwater patterns, saltwater fly tiers will find it extremely useful as well as you can build the material up to your desired bulk. Best of all its TACK FREE and cures in just a few seconds. Along with that you will get a slew of other Clear Cure Goo- Thick, Thin, Brushable, Thin Squeeze, Tack Free Brush as well as our Pro Plus Curing Light- ( Did we just let the cat out of the bag for a new product ). Retail Price: $175.00
To go along with your Clear Cure Goo we will add in some Clear Cure Eyes. If you haven't heard we have ventured into the eye market. Like everything we bring to market, we strive to be the best in the business. With these eyes we know we have achieved that. In fact we have hit it out of the park. We create the most realistic- the most lifelike adhesive eyes available today. Clear Cure Eyes rival taxidermy eyes that cost typically $20-$50 dollars a pair. We bring them to you for less than $5 dollars and you get 20 in a pack. We didn't stop there, we reinvented the dumbbell. It has long been argued that the best way to give your streamer and bait fish flies life is to fish it weightless on an intermediate or sinking line. With that in mind we created Clear Cure Eyes Dumbbells. Again the most lifelike and realistic eyes on the market, now take Clear Cure Goo put it in a mold- create a dumbbell and add on our awesome adhesive eyes and you now have a super durable, yet light weight dumbbell. Packaged with 6 dumbbells in a package and we are able to bring these to you for under $7. Retail Price: $125
So we have your covered in rod and reel department. You know have Clear Cure Goo and Clear Cure Eyes to make your own awesome flies…. But you want to go fishing NOW…. With endorsements from names like Thomas Harvey, Charlie Craven, Nick Curcione, Bruce Chard, Pat Cohen, Henry Cowen, Rick Takahashi and (see our website for more)…. Well you get the point- we make good stuff. With those connections we were able to pull a few strings and get hand tied original flies from Thomas Harvey of Carolina Fly fame, Pat Cohen from rusuperfly.com and Brent Dawson from War Path Flies. Thomas has been featured multiple times in This Is Fly, as well as the being a regular contributor to Southern Culture On The Fly. An out of the box fly tier he always amazes us with his latest fly design. If you haven't had the opportunity to fish any of Thomas' patterns- prepare to have your socks knocked off. You will be receiving an assortment of flies form Thomas and when you get them, you will be amazed by not only how "clean" his ties are but by how well the all move in the water. Pat Cohen from rusuperfly.com has been featured in The Drake, Fly Tyer and Eastern Fly Fishing. Pat is best know for his unique deer hair patterns that have been wowing crowds and selling out at every show he attends. Whats not as much known about Pat, is he has created some fantastic saltwater patterns. You will be one of the first people to get some of them in your hands. Brent Dawson's Warpath Flies have been fished world wide with incredible success. You have seen Brent and his flies in the movies Soulfish, Soulfish2 and many more. Brent and Warpath flies have been the secret weapon so many celebrity fishermen count on. You will receive a selection of flies hand tied by Brent and you will get the results that Warpath Flies in known for. Retail Price: $125.00
The combined prized package is over $1,000. We may even get a few more sponsors before our contests ends….
THE RULES….
Now- The rules:
VIDEO SUBMISSIONS ONLY-
-You must say, or scream " The Goo Is The Poo" AND "Clear Cure Goo Dot Com" in your video submission.
– Try and make your submissions funny or make your video in a unique place, restaurants, sporting events, church functions- Ok maybe not church functions but that would be funny.
– Videos must be no less than 10 Seconds ( like you can say the goo is the poo AND Clear Cure Goo Dot Com in less than 10 seconds) and no longer than 2 minutes.
-You may post them direct to our Facebook page www.facebook.com/clearcuregoo or upload them to Vimeo or Youtube and share the link on our Facebook page
Get people to "like" your video submission its worth 1 point
Get people to "share" you video submission its worth 3 points
3 members of Clear Cure Goo's Staff will vote on their favorites worth 5 points each
The video submission with the highest points at the end of the contest wins.
If you do not have a Facebook page but still want to participate, you may upload you video to Vimeo.com or Youtube.com and send us the link to your video submission- We will put it up on our page for you and list your first name and last initial on the submission.
Contests ends August 17th 2012- So please get your submissions in early or be very creative in getting your points. Again this is for a prize package of over $1,000 dollars so make them good.
NOTE – Sounds pretty simple to me, and the prizes are fantastic! Be sure to ask questions if you don't understand the rules, and I will make sure they get answered. Remember that Clear Cure Goo is a Texas fly fishing company.
Category: Fly Tying