There's a wonderful saying from "White Men Can't Jump", and it goes, "The sun even shine's on a dog's ass some days. Anybody can win the lottery. Know what I'm saying?"
Well, it may have been snowing this morning, on the way to a photo shoot in Fort Worth, but by the time I got home, the sun was shining on my inbox.
An e mail from Sam Caldwell, who is the photo editor for CCA Texas Magazine, said unto me that an image would appear in their pages via double-truck. Now, I guess I am just not jaded enough to slough it off, so here it is.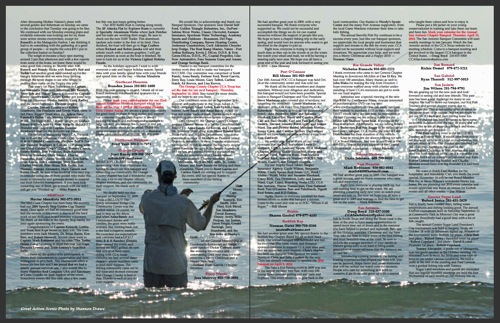 That would be the back side (non sunny side) of none other than Shane Wilson of Laguna Madre Fly Fishing Association. Sure the shoot today will be seen by countless thousands more people, but a guy fly fishing in the surf in CCA magazine? The sun does shine.
Category: Photography