buffalo smallmouth on fly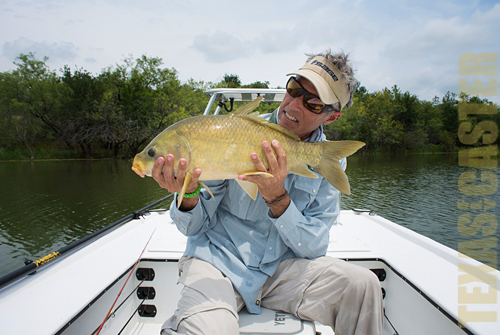 I'll be honest, I know a rarity for a fisherman, and tell you; I don't really know how the buffalo smallmouth got its name. And with the huge compression of my hourly time starting now, I am going to leave that answer for you to find and report to us here.
What I do know about the great slime buffalo is that their numbers, since I have been aware of them roaming, have grown to extraordinary proportions on Lake Ray Roberts, Texas. And after a foray to Lake Bridgeport yesterday, I can say their numbers there are almost as fantastic as they are in Ray Roberts.
BRIDGEPORT
I launched from the public County Park up close to Chico yesterday afternoon, and never started the motor before hitting this Bridgeport Lake TPWD fly record yesterday – just around the corner from the launch. I was hopeful on seeing the numerous mud clouds that this big guy was actually a common carp (a better eater) than a buffalo, but once I had a visual …
Category: Fishing Reports, Life Observed, North Texas, Paid Reading Content, TECHNICAL, Technique