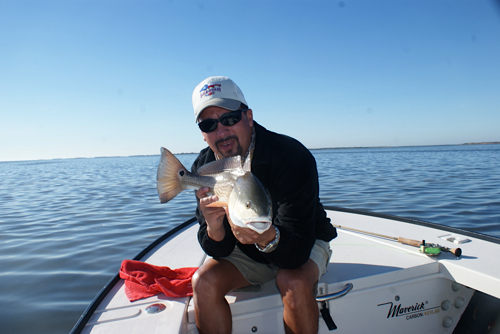 Thanks again for Mark Becerra's (aka. The Flats Guide) report including a birthday picture from the Lower Laguna Madre along the Texas Gulf Coast. Be sure to give Mark a shout in the "comments" as these monthly reports keep coming – fresh and consistent every month to Texas Fly Caster.
We are a very lucky group of anglers here on the Lower Laguna Madre! 2011 began on a very good note. The weather has, with the exception of the last few days, allowed us to fish in shorts and light fleece jackets. The redfish have really been what I like to call "happy" fish, willing to eat just about any fly pattern that falls on their plate. Recently, I found myself picking up on how a properly weighted fly really increased the takes in 2010.
Having had neglected my tying station's organization and cleanliness, I decided to buckle down and hit the Barracuda hard.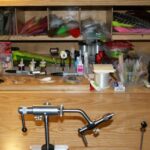 That said, the cleanliness only lasted a few hours.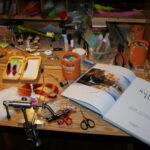 It didn't take very long to put together a list of flies that seem to produce the best. Streamers, crabs, and shrimp patterns just to name a few … The following are the bugs that I will always have in my skiff series custom made mesquite fly box – made in my very own cabinet shop!
This "simple shrimp"
tied with select craft fur, flash, and chenille along with the "Krystal Shrimp" developed by local legend and friend Larry Haines produced my first and second "convict fish" aka "Texas Permit", respectively. I plan on adding the "Outer Banks Sand Flea"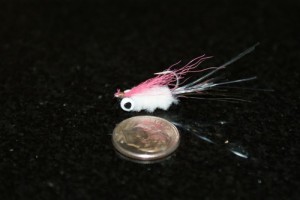 originated by Capt. Brian Horsley and featured in my hardback copy of "Innovative Saltwater Flies" by Bob Veverka (Stackpole Books 1998) to the mix used to land even more sheepshead in 2011.
The "Haines Pilchard" is another fly that Larry Haines featured at one of Dr. Reynaldo Ramirez's Laguna Madre Fly Tyers Club tying sessions. This EP fiber streamer will no doubt help one of my clients land that over the slot sized snook this year! I will however, never head out on the flats without a varying assortment of a crab fly recipes called the "BR Special"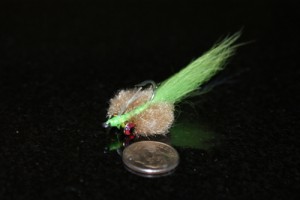 The "BR Special" is another EP fiber recipe tied by good friend and collegue Capt. Bryan Robinson. This crab fly should be without a doubt, hands down, a never leave home without it, pattern if your are coming to the Lower Laguna Madre.
If you haven't already began to organize your fly tying bench make sure to do so while the weather is too cold to fish! Join a fly tying club like the Laguna Madre Fly Tyers Club (email Rey Ramirez at [email protected] for more info) to enhance your tying skills and knowledge as well. This will help increase your chances of sticking your record fish! Make sure and shoot me an email at [email protected] to place an order for your very own wooden fly box and Gear Up for 2011.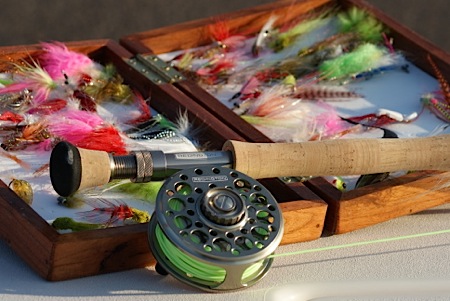 – ALL WORDS AND IMAGES PROVIDED BY The Flats Guide
Category: Equipment, Fishing Reports, Fly Tying, Lower Laguna Madre, Texas Gulf Coast